Akon
What's the sitch with Akon?
I recently unearthed my college iPod from the dusty, closeted box of dated electronics I've held onto. This iPod is a weighty device with 30 gigabytes of music, most of it extra-legally downloaded during a rebellious era of the internet. I charged the device then pushed shuffle on the, "Fall 2010 Hitzz," playlist. I let the early-aughts classics wash over me. Eminem. Three 6 Mafia. Snoop. Dre. Ursher. Bone Thugs-n-Harmony. T-pain. Michael Jackson. David Guetta… man. The hits wouldn't stop. My shoulders started to get sore from bobbing to beat after beat; I had to press pause. I looked back at the list of tracks that had played. Without intending, without premeditation, by simple force of prolific talent, each of the prior bangers had been featuring the artist Akon. And I was somewhat surprised by this. I didn't associate his name with such a sustained run among the world's best. Is Akon underrated? Is he misunderstood? And does he need whatsthesitch.com, now more than ever, to remind the world of his greatness?
What's the sitch?
Akon, born Aliaune Thiam, is a Hip Hop and R&B artist of Senegalese decent. His mother was a dancer and his father a renowned percussionist, so the power of music was impressed upon Aliaune at an early age. During his meteoric career, Akon has sung on more than 35 Billboard Hot 100 Hits, and is the first artist to hold both the #1 and #2 spots on the chart on two separate occasions. In April 2007, he sang on six songs that were all simultaneously on the Hot 100 list. He had a song make the Billboard 100 Songs of the Year list during every year from 2004-2010. According to the Guinness Book of World Records he is the #1 selling artist for ringtones in the world, a record that is unlikely to ever be broken. Those are unimpeachable pop credentials.
Akon rose to prominence with his debut album Trouble, which included the hit singles, "Lonely," and "Locked-Up." Prior to the album's release, SRC Records producer and executive Jerome "Knobody" Foster said that while, "Lonely," was recognized as likely the larger commercial hit, they released the track, "Locked-Up," first to quote, "break Akon in the streets." This would not be the last time Akon's shining, steady hooks were paired with a marketing strategy meant to emphasize his supposed criminal background.
…My car is stolen, no registration,
Cops patrollin', and now they done stop me,
And I get locked up,
They won't let me out, they won't let me out, (I'm locked up)
They won't let me out no, they won't let me out, (I'm locked up)
From his first hit single, "Locked-Up," these lyrics reference an auto-theft ring Akon claims he was associated with in the late 90's. The car theft led to his purported incarceration, three intense years in prison focused on his craft, followed by an unlikely rise to fame and riches.
Soon after, reports surfaced that perhaps the story wasn't entirely true. That, in fact, none of it happened. There weren't records of him having spent any significant amount of time in prison. Akon responded to these allegations by saying the sum of many smaller stints in jail added-up to the total time incarcerated that had been initially reported; that it wasn't a lie, just a misinterpretation of the truth.
Whether he went to prison or not, in my humble opinion, the episode speaks to Akon's profound vision. With this narrative he couldn't lose. Either he's a bold, non-violent car thief weaving through traffic in a stolen Ferrari, narrating the whole chase with effortless melodies. Or, he's trying to further his burgeoning music career by falsifying a crime he didn't commit. And he chose grand theft auto. Hilarious. For the majority of listeners, as long as his music continued to make them dance there was no need to look into it much further.
Following the success of Trouble, Akon started a label known as Konvict Music (a nice portmanteau of his name and his alleged past). He ensured we all knew about Konvict music by declaring the label's name in descending pitch at the beginning of each track he was on.
Hiding Behind His Hooks
An early song that is worth a re-listen is called "Don't Matter." Its recognizable hook is, "Nobody want to see us together, but it don't matter, no, 'cause I got you babe." Profound stuff. Here is a sampling of the lyrics:
"Don't Matter (Nobody want to see us together)"
You got every right to want to leave,
You got every right to want to go,
You got every right to hit the road,
And never talk to me no more,
You don't even have to call,
Or even check for me at all,
Because the way I've been acting lately,
Has been off the walll,
Especially towards you,
Putting girls before you,
And they've been watching everything I've been doing
Just to hurt you,


Most of it just ain't true,
And they won't show you,
How much of a queen you are to me,
And why I love you, baby
Nobody wanta' see us together,
But it don't matter, no ('cause I got you babe)
Nobody wanta' see us together,
But it don't matter, no ('cause I got you babe)
Cause we gonna fight, oh yes, we gonna fight,
Believe we gonna fight,
Fight for our right to love, yeah,
Nobody wants to see us together,
But it don't matter, no ('cause I got you)
This song is an early representation of a tactic Akon will return to in many of his best works. He focuses our attention on a chorus with a clear message and hypothesis, but then his verses tell an alternative story. In this case, the chorus explains that nobody wants to see him and this woman together (for unclear reasons), but it doesn't matter to Akon, and he wants the two of them to fight against these external forces in the name of their love, for their, "right," to love.
But, with a closer listen, the verses cloud the message that seemed so straightforward at first. He waits until the second verse to explain that, perhaps Akon himself has something to do with the troubles they are having in their relationship? Maybe it's not so much that others don't want to see them together, but rather, that Akon explicitly cheated on this woman, that she has, "every right to want to go," because the way he has, "been acting lately has been off the wall… putting girls before you." He makes sure to include that, "most of it just ain't true," which is also an admission that some of it definitely is.
Another great example of this pattern is the 2009 club banger, "Sexy Chick," by David Guetta featuring Akon.
She's nothing like a girl you've ever seen before
Nothing you can compare to your neighborhood *explicit*
I'm tryna find the words to describe this girl
Without being disrespectful
The way that booty movin' I can't take no more
Have to stop what I'm doin' so I can pull her close
I'm tryna find the words to describe this girl
Without being disrespectful
Damn girl!
Damn, you's a sexy chick
A sexy chick
Damn, you's a sexy chick
A sexy chick
Damn girl!
Damn, you's a sexy chick
A sexy chick
Damn, you's a sexy chick
Damn girl!
Now, as many of you know, this is the radio edit of the original lyrics, where in place of, "chick," the word, "bitch," holds the chorus together. Not ideal, to say the least. Lyrically, a very problematic song. But, or rather, and; it is catchy as hell. Akon returns to this intentional contrast between verse and chorus, which imparts humor and, therefore, dance energy into the music.
She's nothing like a girl you've seen before… I'm tryna find the words to describe this girl without being disrespectful.
And, after much thought and discussion, with input from key stakeholders, Akon chooses,
Damn, you's a sexy bi@!$.
David Guetta's hot beat supports this assertion. Even while sighing and rolling your eyes, you have to smirk a little, and by the second time he shouts it, most are willing to ignore the powerful sexism for a few minutes in the name of dance.
[See item I in the supplemental materials for scenes from the music video].

Yet another example is the 2006 Akon hit, "Smack That," featuring a different goofy white guy, Eminem.
I feel you creepin', I can see you from my shadow
Wanna jump up in my Lamborghini Gallardo
Maybe go to my place and just kick it like Tae Bo
And possibly bend you over…
Akon, once again, is playing coy with us. Maybe go back to your place, Akon? You'll possibly bend the subject over? Really, are you, Akon, uncertain about what is to follow?
Look back and watch me
Smack that, all on the floor
Smack that, give me some more
Smack that, 'till you get sore
Smack that, oh-oh-oh-oh-oh

His lyrics smirk at the audience, the beat drops with a sly wink, then his choruses answer with an irresistible bounce, usually all held together by brazen sexuality and misogyny.
At this point Akon was near the peak of his powers and popularity. His songs were hits. He was collaborating with everyone. His original Konvict Music label was doing great and had signed other artists, most notably T-Pain. Akon had also launched a second label under Interscope Records called KonLive Productions, an imprint that Akon owned and managed. In 2007, soon after she had been dropped by Def Jam Records, Akon helped sign a young artist named Stefani Germanotta. We will return to this later.
Kontroversy Strikes
Later that year Akon went on an international tour with Gwen Stefani, a tour fueled by the success of their catchy collaborative effort, "The Sweet Escape." That is some Top 40 material. Unfortunately, during the tour, Akon wound up in the midst of controversy; this one real, not a fun marketing ploy.
During a performance in a Trinidad venue called Club Zen, Akon was videotaped bringing a girl on stage and, "dry-humping," her. I haven't seen the video, but that is the language used in the majority of articles written about the incident. It was subsequently discovered that the girl was only 16 years old. The circulating video was cause for Verizon to pull their endorsement, a reported $2-3 million dollar loss for the tour. About three weeks after the incident, Akon gave this apology,
"I want to sincerely apologize for the embarrassment and any pain I've caused to the young woman who joined me on stage, her family and the Trinidad community for the events at my concert. It was never my intention to embarrass or take advantage of my fans in any way, especially those under the age of 18. That is why we tried to make sure that the club did not admit anyone under 18 in the audience. Somehow, that standard was not met."
While I understand his frustration with the club, his first official statement following this possibly criminal event could have been more sincere. He followed this statement with an even deeper view into his psyche, when a few months later he released an unhinged, pseudo-diss track called, "Sorry, Blame It On Me." Please, go listen to it if you haven't recently.
I'm sorry that it took so long to see
They were dead wrong trying to put it on me
I'm sorry that it took so long to speak
But I was on tour with Gwen Stefani
I'm sorry for the hand that she was dealt
For the embarrassment that she felt
Just a little young girl trying to have fun
Her daddy should never let her out that young
I'm sorry for Club Zen getting shut down
I hope they manage better next time around
How was I to know she was underage
In a twenty one and older club they say
Why doesn't anybody wanna take blame
Verizon backed out disgracing my name
I'm just a singer trying to entertain
Because I love my fans I'll take that blame
Even though the blame's on you
Even though the blame's on you
Even though the blame's on you
I'll take that blame from you
And you can put that blame on me
And you can put that blame on me
You can put that blame on me
And you can put that blame on me
This is only the final verse and chorus after a more than five minute long song. Much of the track leading up to this final portion is relatively sincere and personal. He spends a verse apologizing to his partner and kids for being on the road too often and for not listening. He spends another verse apologizing to his mom for not always being there to protect her from Akon's father, who seemed to have put her through some unspecified traumas, including the mention of a second wife. Akon also makes sure to get in a plug about his criminal past when expressing remorse that his mom's, "son was once a thief," and he's sorry the, "Feds came and took me away." Reinforcing his favorite narrative with every chance he gets.
He winds lyrically through much of his life, confessing and apologizing, choruses imploring the audience to, "put the blame," on him. And then, reminiscent of the classic Akon song pattern, he completely changes course at the end. He chooses to conclude with an uncomfortable verse of on-the-nose lyrics about this controversial event in Trinidad, including intra-verse name-dropping of Club Zen, Gwen Stefani, and Verizon. He also changes his chorus at the end, invalidating his seemingly sincere apologies from earlier:
Even though the blame's on you
Even though the blame's on you
Even though the blame's on you
I'll take that blame from you
And you can put that blame on me.
Not subtle. Also, a small point, but worth mentioning; in his apology statement following the incident Akon says they tried to make sure the club, "did not admit anyone under the age of 18." Then, in his song he sings, "In a twenty one and older club they say." A somewhat obvious inconsistency. I understand that the number of syllables is integral to song flow, but this seems like premeditated age-inflation rather than an artistic choice. Music is about imagery and feeling Akon, not facts! You know that, you always have.
This, admittedly, was not Akon's best moment. It is definitely not his best song. The lack of sincerity in this apology perpetuates sexism, it suggests to young men listening to his music that this type of behavior is not something that you need to feel guilty about, that it is better and correct to blame others, to blame anyone else, when caught harassing members of the opposite sex. Terrible messaging. There is no, 'but,' or, 'yet,' to that analysis. After Akon released all of his frustration onto this track, it seems he felt the matter was put to rest.
Auspiciously, the following year, in 2008, Akon found himself working with Michael Jackson on an album. In retrospect, that was really poor timing Akon. Apparently they met and connected, one can only assume over a mutual love for music… it was just about the music. They become fast friends. MJ gave Akon a $250,000 watch, about which Akon is quoted as saying, "It was all diamonds. That's how giving he was. He just wanted everyone around him happy, you know? He was an incredible guy."
They recorded a song called, "Hold My Hand," and had worked out a number of other song ideas in the studio. After some months of collaboration, MJ got busy working on what was supposed to be his farewell, "This Is It," tour in London, his first major tour since 1997. Famously, tragically, he died of a drug overdose on June 25th, 2009, a few weeks before the first concert of the tour. Akon was one of, if not the final artist to collaborate with MJ on new material. That is astounding.
Of course, this history has to be viewed through a somewhat darker lens because of the now well-known awful deeds, the child abuse and pedophilia, of Michael Jackson. But it should be stated, simply, Akon was the last artist to make music with MJ, the king of pop.
Why Akon?
I began writing about Akon not only because of the density of his hits on my old iPod, but also because, simply, I think his songs are great. I think there are moments where his music is laugh-out-loud funny. I wanted to remind our readership that you can make an exceptionally hot party playlist based solely on the stylings Konvict music. I initially had planned to express my enjoyment of Akon through the power of choreographed dance rather than by writing a lengthy exposé, but our IT department still hasn't figured out how to upload those files to YouTube (Though Akon's people have figured it out).
Briefly, here's a quick list of additional awesome, previously unmentioned Akon tracks. [See items II-VI in the supplemental materials for snapshots from some of the incredible music videos].
"Soul survivor," Young Jeezy ft. Akon.
"Ghetto," Akon.
"Bananza (Belly Dancer)," Akon.
"Sweetest Girl," Wyclef Jean ft. Akon and Lil' Wayne.
"I Just Had Sex," Lonely Island ft. Akon.
"We Takin' Over," DJ Khaled ft. Akon, T.I., Rick Ross, Fat Joe, Birdman, and Lil' Wayne.
"I Wanna Love You," Snoop Dogg ft. Akon.
"Beautiful," Akon ft. Colby O'Donis and Kardinall Offishall.
"Bartender," T-pain ft. Akon.
And I'm sure I'm missing at least 4-8 more Akon jams that deserve inclusion.
In addition to reminding everyone about his hawt tracks, I wrote this piece about Akon because I think he needs me. Akon needs me. He needs me now more than ever. And I think, if you asked him, he would tell you the same. I believe that sincerely. He needs whatsthesitch.com. He needs us to do what we do, to dig a little below the surface, down to the third paragraph on Wikipedia, the fourth or fifth link on that Google search, to find the surprises we are sure Akon is full of. He needs us to show the world that he still has more to give.
Kareer Change
By 2010, Akon was planning for and working on his next album, which he said was to be called, "Stadium." This name was chosen, unironically, because Akon would be doing, quote, "Straight stadium tours overseas with this record." The album was purported to drop in 2010. Interestingly, the album never came out.
As you may recall from earlier, in 2007 Akon had signed a young Stefani Germanotta after she had been let go from her previous record deal. The following year Ms. Germanotta released the tracks, "Just Dance," and, "Poker Face," to critical and popular acclaim. Akon had signed Lady Gaga just months before she blew up. Of course Akon.
Back to 2010, Lady Gaga's second album was out and she was continuing her transcendence to stardom, becoming one of the best-selling artists of the period. All on Akon's record label. He was quoted as saying, about Lady Gaga, "She's pretty much retired me." Akon's anticipated 2010 album, "Stadium," has yet to be released, now nine years later.
Instead, Akon has turned his focus to other ventures. He started multiple non-profit ventures for the betterment of his home country Senegal and the continent of Africa in general.
One of these organizations is called the Konfidence Foundation, dedicated to empowering youth in Senegal by promoting health and education. Awesome. Clearly through this major career shift Akon has not lost his passion for word-play. Here is a snapshot of the website with a misspelling of the word future that I have to assume is a fun choice by the artist himself (though may also just be a typing error by an intern).
In 2014, in collaboration with two Senegalese and Malian-born entrepreneurs, as well as the help of a $1 billion line of credit from the Chinese investment group Jiangsu International, Akon started Akon Lighting Africa. The mission of this organization is to bring electricity to hundreds of millions of Africans living without it, primarily using solar and other sustainable energy sources. To date they report having erected approximately 100,000 solar street lamps and many other smaller solar electrical grids across 15 countries in Africa. Impressive stuff Akon. And I'm fairly certain this Chinese investment comes from the goodness of their hearts, with no strings attached. It is safe to assume that Akon knows what he's doing when it comes to negotiating capital for nation-building.
Lastly, as a stamp of modern entrepreneurial credibility, Akon recently launched his own cryptocurrency. I'll give you a few lines to guess its name.
…
…
…
That's right! Akoin. He really does have an endless supply of portmanteaus. I am starting to wonder if he comes up with the names first and then works back to the venture? Akon revealed his savvy business acumen in a Newsweek piece about the cryptocurrency, stating, "I come with the concepts and let the geeks figure it out."
Akoin was initially conceived of to help unite and stabilize the development of Africa. It was also suggested it would be the currency of a futuristic, "Wakanda-like," city being built in Senegal, just outside of the capital, Dakar. You read that correctly. Akon and his partners are raising money to build the platform and technology required for Akoin, so it has yet to officially launch, but there is a glossy website with a well-formatted roadmap, so that is something.
This recent run of successful enterprising has reinvigorated Akon, has rebuilt his confidence after stepping away from the popular music charts in the late aughts.
A Grand Finale?
In October of 2018, Akon revealed he may have even more planned. In a Newsweek interview, when discussing his recent work in Africa, he was asked, "You have a lot of grand plans. Are you going to run for president?" His response made headlines:
"I've been thinking about running for 2020 very seriously. But I didn't want to just do it, because I feel like I want to continue doing what I'm doing and hope that builds me enough momentum [for people] to say, 'You know what, if you run we'll support you.'"
This quote from Akon begs a number of questions. "Huh?" "Is he serious?" "How should I feel about this?" "Remind me, why is our country falling apart?" "Is there some perverse scenario where he could he actually win?" I don't know the answers. I do know he would not be a good candidate. In fact, he would be a very bad one. We don't need to get into all of the reasons why, because they seem readily apparent.
The really sobering thought is that, in our current political reality, Akon would not be the worst candidate either. That is where we are. Throughout his career, Akon has made music from a deep inner well of rhythm and harmony, from a desire to rejoice and to unify diverse groups of people in dance. These are qualities, admittedly, that have recently been lacking in our political leaders, who have too often been cold, uncaring, tone-deaf, self-centered, and exclusionary.
Knowing Akon, mulling this, 'presidential run,' is another misdirection, a hook that will be followed shortly by a contrasting verse. Either way, we are listening Akon. If you run, while we won't vote for you, we will play your hits. We promise. There are so many of them.
Akon has given us far more than we are used to from our popular icons. He is definitively a single-name star, like Prince, Madonna, or Messi. But he has taken it one step further, melding that household name into everything he does, all of his ventures, music-related or otherwise. His life is a performance, a mixed media work of art. And the best may be yet to come.
Akon receiving the key to Jersey City from the Mayor on July 4th, 2019.
Akon jumping into a pool, carrying David Guetta with.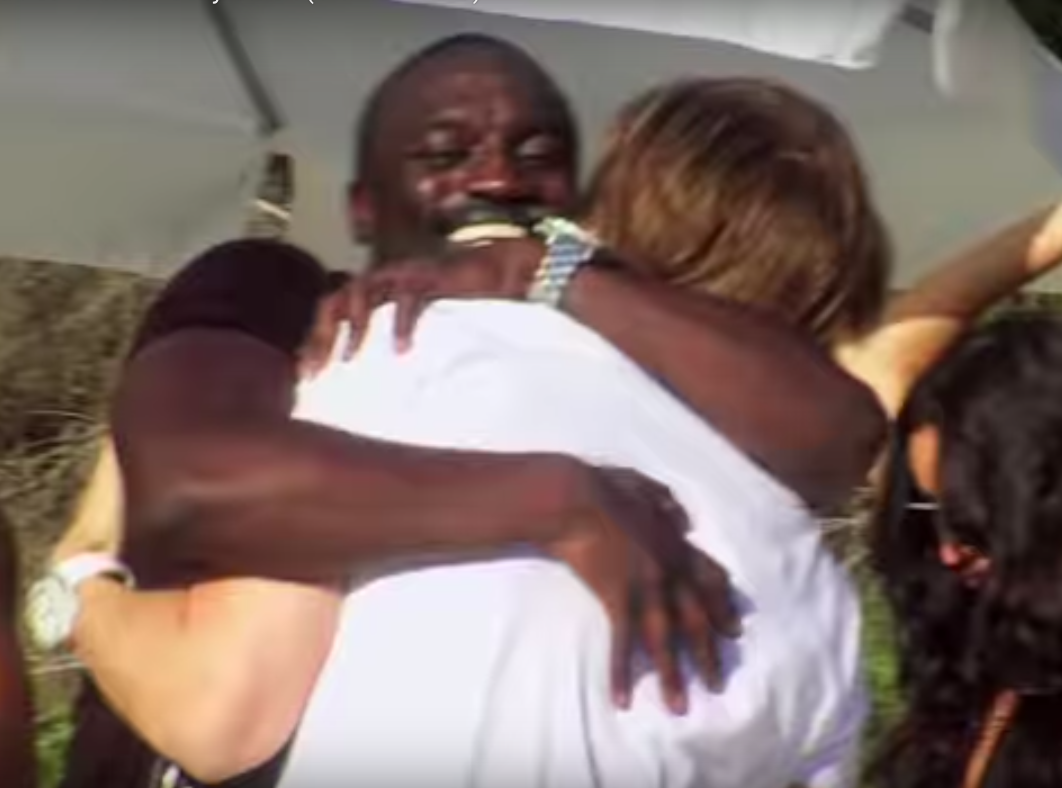 The two dance to express their joy about all the young women who came to their pool party.
V. "We Takin' Over," DJ Khaled ft. Akon, T.I., Rick Ross, Fat Joe, Birdman, and Lil' Wayne.
Akon keeps eyes on a fast approaching swat team of famous hip hop artists.
DJ Khaled and Rick Ross drive their Bentley backwards to escape from the SUVs coming for their hot tracks.